Annual Report 2021-2022
Academic Excellence
Annual Report 2021-2022
Academic Excellence
A rigorous spirit of inquiry drove our diverse community of students to be a force for change in the world, develop personally and professionally, and translate knowledge into real-world practice.
admissions
Cultivating Cultural Diversity
The convergence of cultures at GU-Q created a diverse and inclusive environment that offered students an unparalleled opportunity to practice citizenship and prepare for diverse career paths.
"Being able to accept the richness of diversity of other cultures is a simple yet powerful approach, a first step to engage with international differences."

Nikhil Sangroula (SFS'23), Doyle Global Dialogue
Total Enrollment 2021-2022
Total enrollment of 434 students hailing from 65 different nations enhanced cross-cultural learning and experience in the classroom. Diversity across extracurricular activities further challenged students to engage in cultural inquiry, practice interreligious understanding, and learn to articulate and define their own identities.
Class of 2025 Admissions
A range of admissions activities boosted recruitment of the most competitive and value-driven prospective students from around the world. The 36 nationalities represented in the Class of 2025 include:
Afghanistan • Armenia • Australia • Bangladesh • China • Colombia • Ecuador • Egypt • Ethiopia • Georgia • India • Iran • Italy • Jordan • Kazakhstan • Kenya • Lebanon • Morocco • Nepal • Pakistan • Palestine • Philippines • Qatar • Russia • Rwanda • Senegal • South Africa • South Korea • Sudan • Syria • Taiwan • Tajikistan • Turkey • United States • Uzbekistan • Yemen
Connecting with Prospective Students
A suite of student-run admissions activities created dynamic and exciting platforms for prospective students. The day-to-day lives of students at GU-Q were shared in their own words on the Desert Hoya blog and on a dedicated Instagram page. Admissions also created video resources to support every step of the application process to maximize enrollment success.
teaching and learning
Strengthening Student Achievement
Personal, multidisciplinary learning pathways were created through a flexible and collaborative learning environment built on each student's strengths, interests, and aspirations.
"When I found out that at GU-Q I could major in International Politics, explore economics, and still keep my love for Africana Studies, it was as if I had found the missing piece of the puzzle."

Michelle Hadebe (SFS'25), Desert Hoya Blogger
Innovative Courses
Award-Winning Virtual Reality
Course instructor Christine Schiwietz in collaboration with academic librarian Robert Laws transformed materials from Georgetown University's GU272 slavery initiative in Washington, DC, into an immersive virtual reality (VR) experience. Their innovative teaching tool for the proseminar on Sociological Imagination of the 21st Century won two prestigious Telly Awards in the immersive and mixed reality categories.
Research-Informed Curricula
The Qatar, Energy Security, and Strategic Planning class taught by professors Rory Miller and Fahad Al-Marri emerged out of their National Security Risk in the Energy Sector QNRF grant (NPRP12S-0210-190067). Featured speakers included Minister of State for Energy Affairs, H.E. Saad Sherida Al-Kaabi, and stakeholders from grant end user Abdullah Bin Hamad Al-Attiyah International Foundation for Energy and Sustainable Development.
Qatari Ethnography
Rogaia Abusharaf brought the study of Qatari culture, history, and society to life through her unique course on Qatari Ethnography. Students gained insights and mentorship for a documentary project through class visits from prominent private museum curator H.E. Sheikh Faisal Al Thani, architect and author Ibrahim Al-Jaida, Al Jazeera broadcast journalist Stephanie Dekker, Qatari filmaker Hamida Issa, and author Muhammad Hammam Fikri.
Cross-Campus Learning Experiences
Betsi Stephen brought together Georgetown students from DC and Doha for the multidisciplinary Borders and Security Concerns seminar exploring student identity in relation to the changing international context. Students enrolled in her asynchronous course on Placemaking also engaged in dialogue on the connections between location and personal development.
Global Citizenship and Identity
The Education in Conflict course co-taught by Anne Nebel and Education Above All's Protect Education in Conflict division connected students with practitioners working to address challenges to education in disaster zones.
The courses Identity Formation & Interpersonal Relationships in College taught by John Wright and Climate Change Ethics taught by James Olsen promoted global competence, self-reflection, and a sustainable lifestyle.
Undergraduate Research Training and Innovation
Students' research capacity was enhanced through skills-development workshops, discussion seminars, peer-to-peer learning mechanisms, focused mentorship, and opportunities to publish and present original research. Entrepreneurial idea incubation and competitions also fostered a culture of research as a problem-solving activity.
Learn more about hands-on research training and outcomes and the social entrepreneurs who are already making a difference in Global Citizenship.
Global Connectivities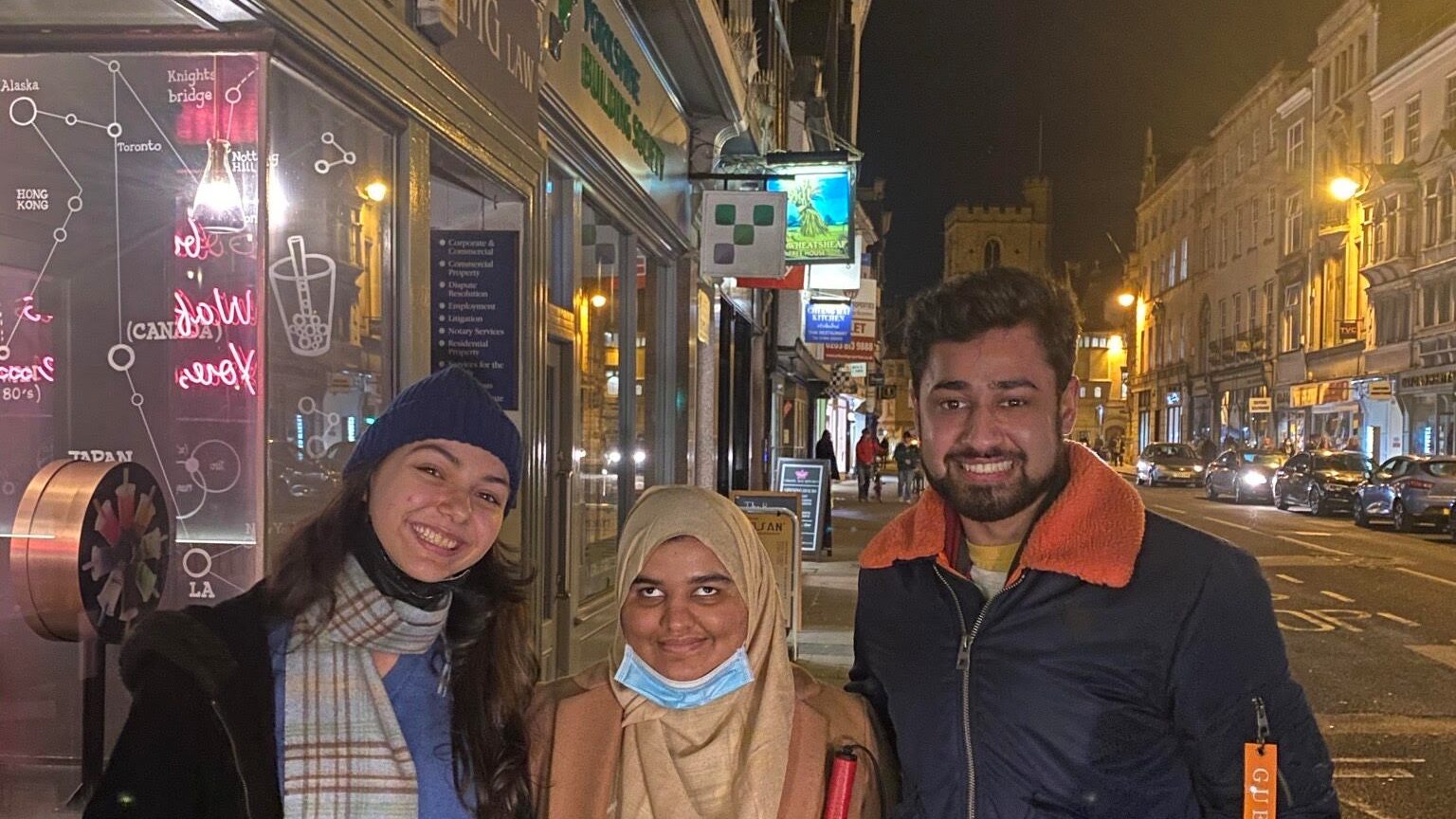 Study Abroad
During their junior year, 32 students enriched their curriculum by studying abroad for a semester at Georgetown in DC, with many sharing their experiences through the Georgetown Doyle Global Dialogue Program.
Waqar Butt (SFS'22) spent a year studying abroad at the London School of Economics, where he reconnected with fellow Hoya and current Rhodes Scholar Khansa Maria (SFS'20) [pictured, middle] at the University of Oxford.
Area Study Minors
The Africana Studies minor, offered jointly with Northwestern Qatar, was taught for the first time this year. The interdisciplinary program provides a critical understanding of African identities and struggles both within the African continent and in global contexts.
Also new this year, the Indian Ocean World Studies minor cultivates a transregional perspective on key social and political questions of identity, belonging, hybridity, and globalization. The program was the outcome of a collaborative multiversity working group.
Learning through Experience
International Crisis Simulation
The Reducing Tensions in the Middle East: Addressing the Roots of Regional Conflict crisis simulation training exercise was organized in collaboration with Georgetown's Institute for the Study of Diplomacy with the participation of the U.S. Embassy in Qatar.
Georgetown Model United Nations
GU-Q's flagship, student-run Model United Nations conference, titled Building Back Better: Stepping into a Brave New World, hosted 385 local high school students on campus and 100 international students virtually. The preceding Fall MUN for 250 local students was organized by 70 GU-Q student volunteers.
Diplomat for a Day
To mark International Women's Day (IWD) 2022, women heads of mission stationed in Doha mentored female Qatari and international students through the Diplomat for a Day initiative. The emerging women leaders were invited to work side-by-side with diplomatic mentors representing:
Austria • Belgium • Brazil • Canada • France • Greece • International Organization for Migration in Doha • Mexico • Netherlands • Singapore • Spain • United States
Chinese Study Program
Kartikeya Uniyal (SFS'23), Andrew Jose (SFS'23), and Nusaybah Binti Mazlee (SFS'24) collaborated virtually with students at Shanghai International Studies University (SISU) through the Chinese Cultural Summer Program at SISU to gain a better understanding of Chinese culture, politics, and socioeconomics.
Internships
Internships across business, culture, education, IT, and government sectors allowed students to gain professional experience and see their learning in action while contributing to organizational success. Internships with partner organizations also earned students academic credit at:
Al-Attiyah Foundation for Energy and Sustainable Development • Education Above All • Middle East Council on Global Affairs • Qatar Financial Centre Regulatory Authority • Qatar Reads • Teach for Qatar • U.S. Embassy in Qatar
multiversity
Transforming Higher Education
GU-Q is a dedicated partner in the integrated multiversity network defining Qatar's higher education vision for the future. Successful multidisciplinary collaborations across Education City drove impact in research efforts, course offerings, engagement opportunities, and new programs.
"The team consisted of several majors: business administration, chemical and mechanical engineering, and economics. I was excited by the ideas that were shared in our discussions."

Ulukbek Kaziyev (SFS'25), "Team Trailblazers", Multiversity Project X
Multiversity Programs and Courses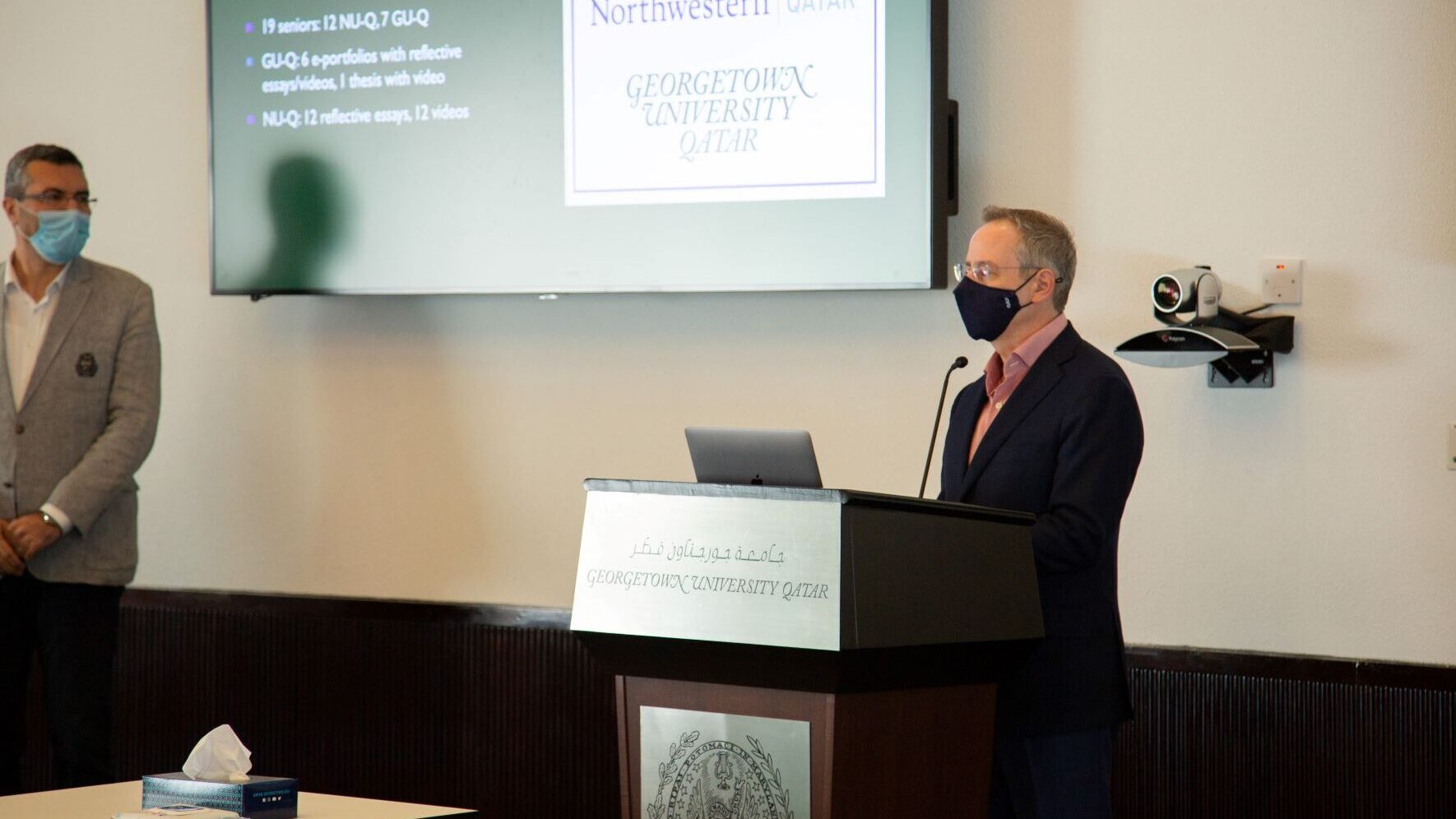 Joint Programs
The Certificate in Media and Politics and minor in Africana Studies offered in collaboration with Northwestern Qatar enriched and expanded curricular opportunities for student engagement with different disciplines, perspectives, and pedagogies.
Further multiversity dialogue was driven by program-sponsored events, including a talk with guest speaker Lahra Smith of the Institute for the Study of International Migration on "Violence against Women and Girls in War: The Case of Ethiopia, Past, and Present."
Collaborative Courses
Offered annually by GU-Q and Northwestern Qatar, this year's joint Doha Seminar capitalized on the unique perspectives and resources of both universities to offer an exploration of the role of migrants in Doha's emergence as a global city for 18 students. The course was taught by Uday Chandra from GU-Q and Hasan Mahmud from Northwestern Qatar.
Students enrolled in Damien Tissot's philosophy course on Justice visited the "Unraveling Persuasion" exhibition at the Media Majlis at Northwestern Qatar, met with artist Bahia Shehab, and shared reflections on her work through a philosophical paper and short video assignment.
Multiversity Activities and Research
Student competitions and workshops encouraged cross-university collaborations and experiences, such as the EC calligraphy competition that saw a first year GU-Q student demonstrate award-winning Arabic calligraphy skills.
Faculty and staff also benefited from the opportunity to develop collaborative programs and share best practices through the EC Teaching and Learning Committee, which this year focused its discussions on inclusive pedagogy.
Product X Bootcamp at Education City
The first Product X: Innovating for Future Economies Multiversity Bootcamp challenged 19 undergraduate and graduate students representing 13 different fields of study across Education City to sustainably design disposable food containers in the circular economy. The project's development team and participating students represented CMU-Q, GU-Q, HBKU, TAMU-Q, and VCUarts Qatar.
Research on Multiversity Education Impact
New research conducted by Christine Schiwietz, GU-Q, and Jacqueline Williams, VCUarts Qatar, found that QF's unique multiversity vision is fostering global citizenship and intercultural competencies. Their co-authored chapter on "Current Understandings of Global Competency in Shaping Globally Engaged Citizens" was published in Leadership Strategies for Promoting Social Responsibility in Higher Education (Emerald Publishing, 2020).
"The project highlights the incredible potential of the QF multiversity in bringing together students and scholars…who can grapple with a complex problem from their unique…perspectives."

Christine Schiwietz, Assistant Dean for Curricular and Academic Advising, Product X Development Team
student support
Educating the Whole Person
A transformational Georgetown education is founded on the Ignatian value of cura personalis, holistic care for the whole person that encourages active citizenship and empowers students to find their purpose.
"This win represents just one part of the rich legacy of excellence that we have here at GU-Q: students strive to be the best at what they do, and debating is no exception."

Muhammad Ullah (SFS'23), Georgetown Debating Union President, QUDL National and League Champions 2022
Leadership Development
Hoya Leadership
A variety of opportunities offered students the chance to learn leadership skills, contribute to the Georgetown Experience, and mentor high school students on their own higher education journies. Programs included:
Activities Commission • GAAP Day • Honor Council • Leadership Ambassadors • Model United Nations • New Student Orientation • Planet Georgetown • Senior Class Committees • Student Government Association
Leadership Track
The Georgetown Leadership Track offers practical workshops, activities, and lectures that allow students to practice skills in real-life scenarios. The four-year program also invites faculty and staff to serve as mentors to target the unique development needs of each stage of student life. Topics covered:
communication • critical thinking • cultural awareness • emotional regulation • empathy • etiquette and protocol • financial literacy • gratitude • mindfulness • networking • social media and digital management • teamwork • understanding personal values
Healthy Approach to Life and Learning
Promoting Healthy Lifestyles
The Student Wellness & Counseling Center (SWCC) promotes holistic wellness as a vital aspect of a successful education by fostering a supportive and inclusive environment. Engaging programs also encouraged the entire community to take proactive steps to live a happy and healthy life. Student services included:
assessments • counseling • healthy lifestyle workshops • inclusivity and anti-bias training • outreach • publications and digital tools • screenings • special needs assessment • Women's Center support
Academic Support
The success of each and every student is supported through learning enhancement programs, special needs accomodations, and faculty support for best practices in teaching and learning. Tutoring is offered for Arabic, economics, French, Map of the Modern World, practical study skills, and college-level writing. Academic support included:
collaborative tutoring sessions • dedicated learning spaces • professional staff tutors • trained peer tutors • tutor and undergraduate assistant employment program • Writing Center support
Student Clubs and Activities
Interest-Led Personal Development
World Cup excitement infused the campus community from the classroom to the pitch, with intramural football matches pitting teams of students and faculty in friendly tournaments that also strengthened community bonds. The football initiative was one of many competitions, cultural activities, and scholarly events on sports and society held throughout the year.
Active Citizenship
Students took action to improve their world through planned activities around key issues affecting their communities in Qatar and beyond, and encouraged others to do the same.
Accessibility Awareness Workshop organized by the Future is Female (FiF) and led by comedian, model, athlete, and disability rights campaigner Nawal Akram.
"Palestine 101: Palestine and Holy Sites" with Nadia Salem.
30th Anniversary of the Fall of the USSR panel discussion with Sherzod Madrahimov (TAMU-Q), Max Oidtmann, and Edward Kolla.
Settler Colonialism and Genocide in the Chinese Occupied Uyghur Homeland panel discussion with Sean R. Roberts, George Washington University, and Arslan Hidayat, a Uyghur exile and activist.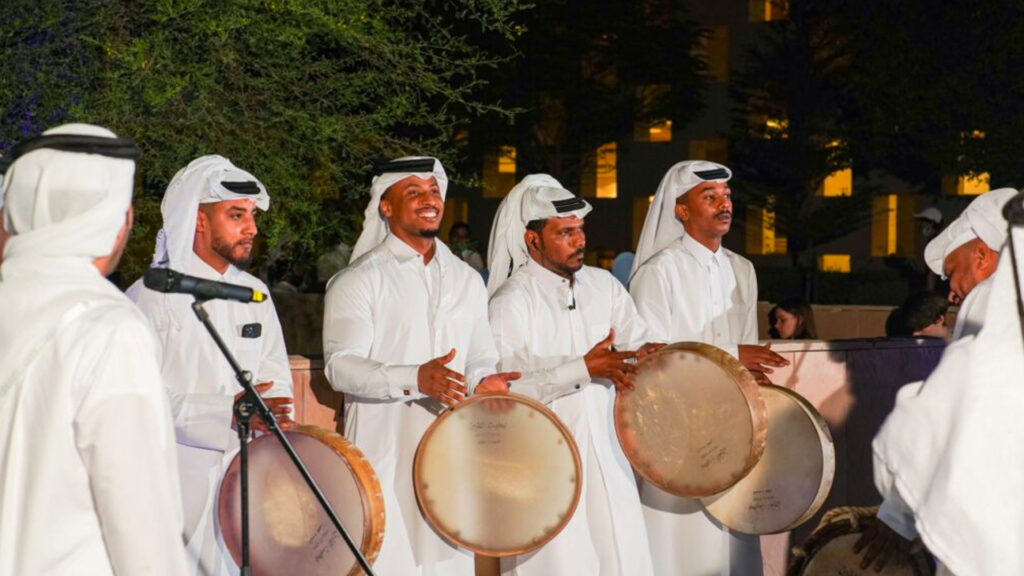 Cultural Diplomacy
Through club activities that promoted cultural diplomacy, students created strong community connections while exploring and sharing their own identities.
African Cultural Night
Apartheid Week
Diwali and Holi
Qatar National Day
Ramadan Iftar
"In Conversation with H.E. Graciela Gomez Garcia," a student talk with the ambassador of Mexico to Qatar
Georgetown Debating Union
The Georgetown Debating Union successfully defended their championship titles at both the Qatar Universities Debate League and the Qatar Universities National Debating Championship. Club captain Pragyan Acharya (SFS'24) won Best Speaker Award and his teammates swept top honors at both events.
World Universities Debating Championship
Muhammed Saad Ullah (SFS'23), Asma Shakeel (SFS'24), and Pragyan Acharya (SFS'24) competed in the World Universities Debating Championship hosted by Debate Korea. Pragyan won several competitive rounds to judge in the semi-finals at World and the Australian British Parliamentary Debating Championships.
Arabic Debating Society
The Qatar National Arabic Debate League: The GU-Q Arabic Debating Society placed third, Hamza Alsioufy (SFS'24) placed second. National Universities Championship: Yousef Salem (SFS'24) won third best speaker. Sixth International Universities Debating Championship in Turkey: Team Hamza Alsioufy, Abdullah Hussein (SFS'24), Yousuf Salem, and Ahmad Alkuwari (SFS'24) represented GU-Q.
graduation
Graduating with Purpose
The graduating Class of 2022 demonstrated unmatched resilience and a commitment to education and living their values over their four-year journey. They embraced innovative approaches to learning and engagement to overcome unprecedented challenges, and gained the knowledge and tools needed to bring real change to the world.
"In this moment, you are exactly where you need to be….To deny that would be to deny the legacies of your ancestors, the giants on whose shoulders we stand."

Iman Ismail (SFS'22), Senior Class Speaker
Class of 2022
Class of 2022 Tropaia Awards
Outstanding members of the graduating Class of 2022 were recognized for their academic excellence, extracurricular achievements, and induction into prestigious honor societies at the Tropaia awards, marking the successful end of their undergraduate studies. Dedicated members of faculty and staff were also honored at the in-person ceremony.
Dean's Medal
Ghalya Al-Kuwari
Abu Hamid Al-Ghazali Faculty Award
Ayesha Iqbal
Culture and Politics Outstanding Student
Iman Ismail
International Economics Outstanding Student
Bothaina Jassim Al-Thani
International Politics Outstanding Student
Ayesha Iqbal
Certificate in American Studies Award
Linda Ridzuan
Certificate in Arab and Regional Studies Award
Janan Iranbomy
Certificate in Media and Politics Award
Hana Elshehaby
Certificate in American Studies
Linda Ridzuan
Certificate in Arab and Regional Studies
Janan Iranbomy
Certificates in Media and Politics
Sara Abdul Razzak
Aisha Al- Kuwari
Maytha Al Malki
Talila Al-Mohannadi
Dana Darwish
Hana Elshehaby
Alaa Hussain
Zainab Qazi
Independent Certificate in Security Studies
Ayesha Iqbal
cum laude
Abdulrahman Al-Thani
Bothaina Hamad Al-Thani
Aleksandr Chirgun
Hana Elshehaby
Taha Kaleem
Khushboo Shah
magna cum laude
Labeeba Ahmed
Holom Ali
Bothaina Jassim Al-Thani
Sooin Jessica Choi
Iman Ismail
Kaiming Ma
summa cum laude
Shaza Afifi
Ghalya Al-Kuwari
Linda Ridzuan
Ayesha Iqbal
Tanner Manley
Alpha Sigma Nu
Labeeba Ahmed
Bothaina Jassim Al-Thani
Jessica Choi
Iman Ismail
Tanner Manley
Phi Beta Kappa
Ghalya Al-Kuwari
Bothaina Jassim Al-Thani
Linda Ridzuan
Ayesha Iqbal
Kaiming Ma
Omicron Delta Epsilon, the National Economics Honor Society inductees:
25
Pi Sigma Alpha, the National Political Science Honor Society inductees:
7
Phi Alpha Theta, the National History Honor Society inductees:
19
Theta Alpha Kappa, the Religious Studies and Theology Honor Society inductees:
2
Ambassador Awards
Zoya Farid
Shaza Afifi
Leadership Award
Kamilah Idris
Georgetown Engagement Award
Sanskriti Tandon
Community in Diversity Award
Iman Ismail
Blue and Gray Award
Khusboo Shah
Silver
Khushboo Shah
Bronze
Janan Iranbomy
Copper
Jawaher Al Shammari
Dana Darwish
Iman Ismail
Tasneem Usmani
Faculty Members of the Year
Patrick Laude
Dennis McCornac
Senior Staff Appreciation Award
Julien Moutte
Read more about the year.
GU-Q at a Glance
Watch the Message from the Dean.

Global Citizenship
A holistic approach to education impacts every aspect of student life to support and inspire the next generation of leaders.