Annual Report 2021-2022
Executive Education
Annual Report 2021-2022
Executive Education
Graduate degree and certificate programs combine Georgetown's full program offerings with instruction from leading scholars and industry experts to meet the demands of Qatar's burgeoning knowledge economy.
master's Degrees
Advancing Continuing Education
Graduate degree programs offered in collaboration with Georgetown University in Washington, DC, contribute to developing a highly educated workforce that is critical to Qatar's continued social, political, and economic development.
"Georgetown is committed to preparing people for careers that serve the global community. This master's program and course play an important role in accomplishing that mission."

Anthony Arend, Professor; Chair, Department of Government at Georgetown University, EMDIA Instructor
Graduate Programs
EMDIA: Strength through Diplomacy
The one-year Executive Master in Diplomacy and International Affairs (EMDIA) program custom designed by the Institute for the Study of Diplomacy at the Walsh School of Foreign Service in DC seeks to enhance the ability of practitioners from Qatar and the Middle East region to formulate and implement effective foreign policy. The program launched in Fall 2021 with a cohort of 12 students who benefited from unique engagement opportunities with key figures in Qatar's foreign policy establishment.
EML-Q: Leaders for Robust Growth
The Executive Master in Leadership program was custom designed by the McDonough School of Business for the Qatar Leadership Center (EML-Q). The 15 Qatari students in the graduating Class of 2022 are employed at:
Anti-Doping Lab • Ashghal • Hamad Hospital • International Bank of Qatar • Ministry of Commerce and Industry • Ministry of Defense • Ministry of Education and Higher Education • Ministry of Interior • Phi Clinics for Plastic Surgery • Qatar Gas • Qatar Petroleum • Qatar University • Supreme Committee for Delivery and Legacy
 "We were very honored to host such esteemed members of Qatar's diplomatic community to offer our students real-world insights and perspectives from seasoned diplomats."

Rory Miller, Professor, Global Political Map: Geopolitics for Practitioners Course, EMDIA Instructor
IEDM: Success through Preparedness
The Executive Master in International Emergency and Disaster Management (IEDM) celebrated 14 graduates in the Class of 2022. Capstone research projects explored the use of safety and security technologies in mitigating disasters at mega sporting events such as the FIFA World Cup Qatar 2022™, best practices in humanitarian assistance, and improving Qatar's climate change strategies.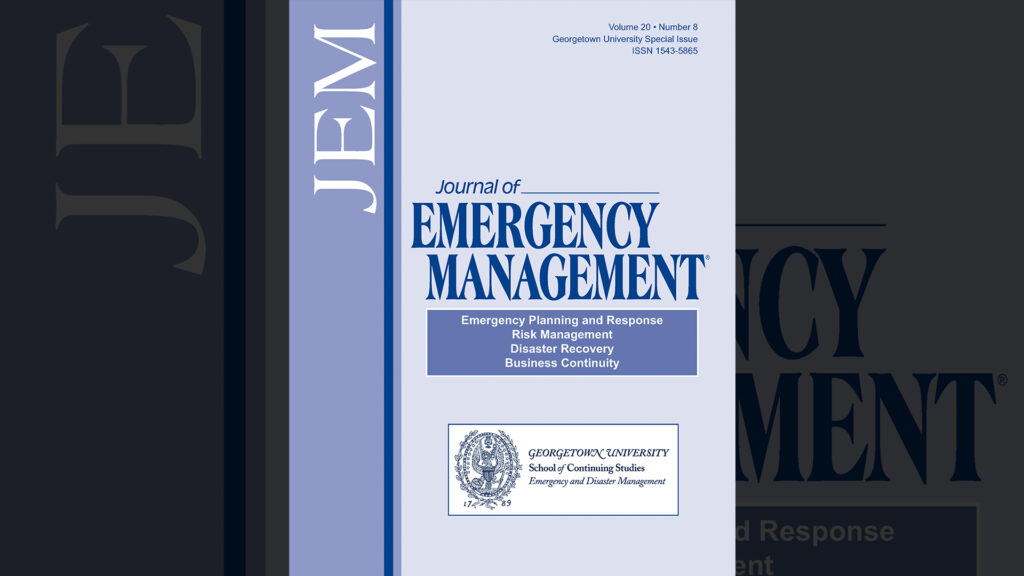 IEDM Alumni Publications
IEDM coursework covered real-world case studies including Qatar's LNG production sites. Program graduates later developed their research into journal articles co-authored by program leads Tim Frazier and Erik Wood and published in a special issue of the Journal of Emergency Management (2022, 20, no. 8).
Al-Jassim, Mashael. "Emergency Management and HAZMAT Mitigation: Strategic Planning for New Developments," pp. 39-58.
O'Connor, Megan. "Reducing Risk and Building Agency for Vulnerable Asylum Seekers,"pp. 91-102.
Serrano, Roel. "Cash-based Aid Distribution Case Study: Typhoon Yolanda," pp. 137-152.
"Due to the nature of my work, disaster planning and management are critical for our business continuity."

Ali Mohammed Al-Hammadi (SCS'21), Ministry of Interior, IEDM Graduate
Certificates
Building Institutional Capacity
Custom certificate programs delivered by seasoned faculty and expert practitioners supported the learning needs of professionals in Qatar and prepared public and private organizations to meet the challenges of a changing world.
"Through the program, we will be able to develop long-term organizational capacity by bringing the knowledge and expertise from the training back into the boardroom."

Nasser Al Naemi, Secretary of the Board, QF Board Management Training Certificate Program
Custom Designed Certificates
Public Services Infrastructure: MOCI
A custom certificate program on Public-Private Partnerships for the Ministry of Commerce and Industry (MOCI) was offered in partnership with Georgetown's School of Continuing Studies (SCS) and accredited by global examination institute APM Group Limited (APMG). The first cohort of 24 professionals work at various ministries and authorities in Qatar.
Leadership in Global Energy: Nakilat
A custom certificate in Strategic Leadership Development was designed for employees of LNG shipping giant Nakilat through SCS and facilitated by GU-Q for 72 emerging executives. Through the program, they acquired the skills and knowledge needed to implement the company's strategy, contribute to a culture of innovation and collaboration, and move forward in their careers.
Strengthening QF Resilience
Sustainable Impact on Migrant Welfare
GU-Q and QF in consultation with the International Labour Organization (ILO) of the United Nations collaborated on a Georgetown University certificate program titled "Ethically Managing a Migrant Workforce in Qatar: Policies, Principles and Perspectives." The educational course included the participation of 40 supervisors representing 18 different companies subcontracted by QF.
QF Board Development Training
A short certificate program on Board Development Training was custom designed and delivered by the McCourt School of Public Policy's Center for Public and Nonprofit Leadership for 10 employees of the Qatar Foundation Board Management Office (BMO).
Developing Skills across the Multiversity
Additional professional development opportunities facilitated by EPE included the "Think Fast: Communication Skills" workshop offered to 84 Teach For Qatar staff and teachers and taught by SCS-affiliated faculty, and an executive education masterclass on "Effective Communication for Negotiating" offered jointly with Northwestern Qatar.
"Public-Private Partnerships are one of the key strategies to achieve QNV 2030 and the SDGs, allowing Qatar to capitalize on the expertise and resourcing that those partnerships provide."

Rodolph Boughaba, Associate Dean for Executive Education, Certificate in Public-Private Partnership
Read more about the year.
Scholarly Impact
Discover the impactful research of global and regional significance being conducted by experts in their fields.
Introduction
Watch the Message from the Dean for an overview of the year.